TAGAAN Arnis - Method and Techniques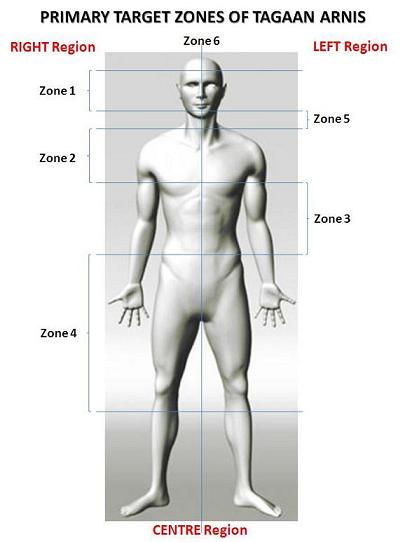 TARGET REGIONS (Opponent's Perspective)
LEFT – is attacker's left side of the body
RIGHT – is attacker's right side of the body
CENTRE – is attacker's frontal-body from crown to navel

TARGET ZONES

Target Zones are numbered according to vulnerability to attack.
Zone 1 – upper temple down to jaw
Zone 2 – base of neck running down to shoulder blade past shoulder joint to upper arm
Zone 3 – Body: chest down to waist line
Zone 4 – From waist line down to below knee joint
Zone 5 – Neck
Zone 6 – Frontal angle from crown to navel
Tagaan Arnis is concentrated in these six zones and basically maintains six primary strikes. However, in order to cover the three regions, practitioners perform twelve strikes.
DOCENG HATAW (Twelve Strikes)
Hataw Uno - Left Temple
Hataw Dos - Right Temple
Hataw Tres - Right Shoulder
Hataw Cuatro - Left Shoulder
Hataw Cinco - Left Body
Hataw Seis - Right Body
Hataw Siete - Left Hip
Hataw Ocho - Right Hip
Hataw Nueve - Left Neck
Hataw Diez - Right Neck
Hataw Once - Crown
Hataw Doce - Centre

DOCENG SANGGA (Twelve Blocks) are designed to block and counter the twelve strikes.

PATTERNS (Forms or "Anyo")

TAGAAN Arnis has several patterns designed according to practitioner's level of adaptability and advancement. The basic pattern is a combination of "Doceng Hataw and Doceng Sangga" and side foot movements on an H-shaped pattern.

TAGAAN Arnis is a combative style. GM Marc has successfully exposed the patterns of TAGAAN Arnis in many sports competitive tournaments, and it consistently garners top awards in every tournament the practitioners showed their skills. GM Marc is now gearing up to expose his art to sparring competitions.


Back to Top



Copyright © 2010 Tagaan-Kawala M.A.
Website design by: GM Marc