Testimonials
---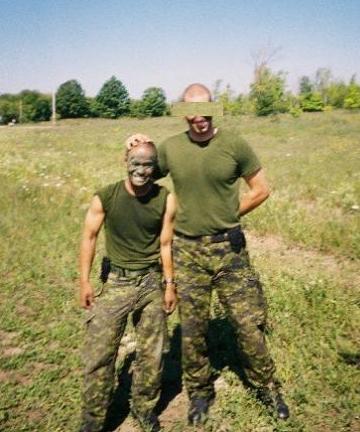 Maestro/Kyud Darwin Gonzales
1st Degree Blackbelt, Kuntaw (IKF/KNP)
Blackbelt, Sikaran (WSBP)
Pahang Maestro - Antas Isa, Tagaan Arnis-Kawala
My name is Darwin Gonzalez; I'm a student of GM Marc. I have been using GM Marc's arts for the last 5 years. I work for the security and also an army reserve of Canadian Forces. These arts have so many benefits on me, especially where my work field is. I had so many street fight experiences where I work, and I used these arts. The KAWALA art (unarmed street fighting) is one of the examples that really help me survive in the street, like couple of weeks ago. I encountered an incident at my work. I was working at the security in the condo. Two drunken guys entered the elevator with me and started a fight; one lunged punches on me, the other one drew a flip -knife and lunged at me in close-range. I have no choice, but to use force at them; I have to protect myself. Using the unarmed techniques, I am still alive and no injuries at all. Another example during my security detail was when a man drew a hidden handgun to my head. Again, GM Marc's arts survived me and I was able to subdue the attacker until the authorities arrived.
These are just few examples of my experiences where I have to use GM Marc's martial arts. Most of my experiences in the military training involve practical and easy to apply, swift, and life-survival techniques, and I have to use these arts a lot. I use these arts a lot because one thing is, they're all practical. GM Marc always teaches his student in practical way not from the book. The reason is some techniques from the book do not apply in the street; what he teaches is all practical in the streets. He wants everyone to know that these arts are no jokes to play with, and for sure, I know that myself. These arts are not made for tournament. Yes, we have tournaments, but that's a different story where we have to use practice sparring for it. In other words, the arts that he taught me and what he is teaching to his students are practical and really a street-survival. If anyone thinks that these arts are just sports and tournament level, I would not be here and writing this testimonial to you. I enjoy my work and learning more about these arts. This is why I'm still doing this because it benefited me in the past, benefits me now, and in the future ahead.
GM Marc teaches TAGAAN Arnis (armed), KAWALA (unarmed/street-survival), KUNTAW (IKF/KNP), SIKARAN (WSABP), and BUNO – all Filipino Martial Arts (FMA).
Back to Top
---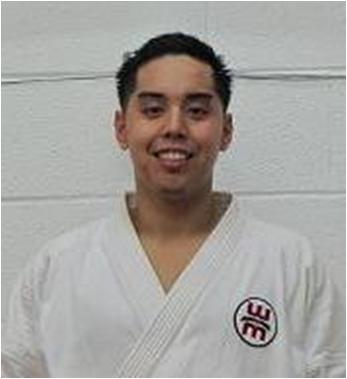 Maestro/Kyud Jong Rojas
2nd Degree Blackbelt, Kuntaw (IKF/KNP)
Black Belt, Sikaran (WSBP)
Pahang Maestro - Antas Isa, Tagaan Arnis-Kawala
For half my life I have been involved with Grandmaster Marc and his arts – the Tagaan Arnis, Kawala, Kuntaw, Sikaran, and Buno. He has been my instructor, my mentor and my friend for over 10 years now and there are no words to describe the kind of experience I have gained since my youth studying and teaching at Marc's Kuntaw Martial Arts (Tagaan Arnis, Kawala, Kuntaw, Sikaran, Buno).
My name is Jonathan Rojas but you can call me kyud Jong, we are a close community which I have grown to love as my own family. I am one of the first of the Kuntaw core which have grown with Tito Marc where I have helped aid in him his journey to where we are based now. I was one of the slowest of my class and there were times where I thought I wouldn't cut it as a martial artist but where my confidence has failed me Tito Marc's ability to inspire helped me to continue on my own journey.
Before my life as a martial artist I would describe myself as angry, short tempered and undisciplined. I have since developed a good sense of character where as I could control my emotions. Since my studies with GM Marc, he has not only helped me defend myself in the streets but he has also helped me in my own personal life. We are a closely connected family and this is what separates us from other clubs. We enjoy the time we have together and continue to help with the upbringing of the club. What I love most about this club is that Tito Marc has invested so much time and money without expecting nothing but respect and keep an open mind to learning and listening to what he has to say.
The word "tito" means uncle and it is a term of endearment, this refers to the respect that he has gained as a family member and I say the word "tito" loosely because he is not only my instructor, my uncle, and my mentor... but he has been nothing short of a second father.
Back to Top
---
Testimonial from a parent:
Maestro/Kyud Art Fernandez
Pahang Maestro - Antas Isa, Tagaan Arnis-Kawala Martial Arts
3rd Degree, Blackbelt, Kuntaw (IKF/KNP)
I have always been a firm believer of Martial Arts. For me, this knowledge helps a person in developing his or her character and sharpens the ability for self preservation, be it physical or mental. However, Martial Arts maybe useless or sometimes even becomes a liability if taught by an irresponsible and careless individual. The challenge is to look for a good instructor. One who embodies and upholds the values of the art he teaches. One who is selfless and keen on passing on the arts for the sole purpose of nurturing the pupils and not for self financial gratification. This, I am very lucky, because I found GM Marc.
Currently I have 3 kids under his tutelage: Francis (Jr. Blackbelt), Bernise (3DBB) and Danise (3DBB). I have seen my kids develop a strong sense of self-confidence and the responsibility that goes with it. I can see their efforts to succeed but not without always thinking of how to do them in the right way. If my kids committed an error, they will be courageous enough to admit it and ask for forgiveness with a sincere intention of not doing it again. These I believe build their characters and will guide them through a successful future. All of these, my kids are having and with one big bonus-- the ability to defend themselves if need be.
Several years ago, during the Halloween season, my two daughters were ganged up by six teenagers. They were just trying to help a friend to retrieve her belongings which were taken by this group. The group tried to hurt them but they were able to parry the attacks and successfully defend themselves. This one instant alone, I can say that their training was well worth it. My family will always be grateful to you GM Marc. Thank you very much.
Back to Top
---
Kyudai Justeen De Ocampo
Intermediate Level, Kuntaw (IKF/KNP)
Hello Tito Marc,
This email is from me (Justeen) and Jake. We would like to say thank you for the different lessons you taught us. Not just how to spar, or to defend ourselves with the different techniques, but you taught us how to take care of ourselves physically and mentally. You taught us to never give up, and that school is NUMBER ONE!
My family and I, from the bottom of our hearts, thank you for everything!
Love,
Jake, Justeen, Maribel, and Jacek
Back to Top
---
Copyright © 2010 Tagaan-Kawala M.A.
Website design by: GM Marc