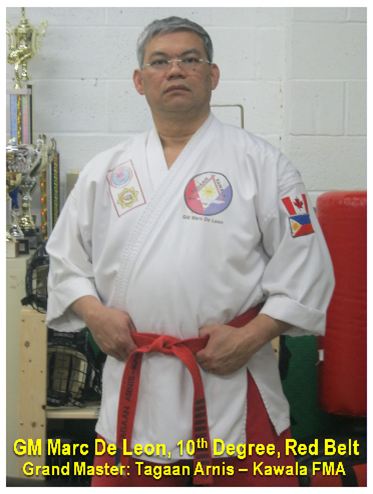 Welcome...and thank you for visiting our on-line home.
When you leave this site, you will know more about the richness of Filipino Martial Arts (FMA) and the uniqueness of TAGAAN Arnis and KAWALA Martial Arts, as embodied in its three guiding principles - the MAHINAHON (prudent) - MATATAG (resolute) - MATAPANG (valiant), which has become our way of life. In particular, you will know about:
What does the TAGAAN Arnis and KAWALA Martial Arts logo stand for?

What is TAGAAN Arnis De Leon System?

What is KAWALA Street Survival System?

What is BUNO (wrestling Filipino-style)?
You will know more about Tagaan Arnis and Kawala and its involvement and contribution in the martial arts community as I continuously update this website .
Again, thank you for time and please visit us every now and then for more FMA information.
GM Marc De Leon
Back to Top
Copyright © 2010 Tagaan-Kawala M.A.
Website design by: GM Marc