News, Events, and Promos
NEWS

Congratulations!

Maestro Ramon Villardo, GM Marc's certified Tagaan Arnis and Kawala instructor, and his Tagaanista team sets an unprecedented mark in the history of Queen City Laban-Laro VIII in Buffalo, New York, on May 8, 2010. A six-arnisador/tagaanista team hauled the most medals in the tournament: 4 gold, 5 silver, and 1 bronze! According to Maestro Ramon,

"for this tournament, I implemented with great success the training method you have showed me from your family art TAGAAN Arnis and the effectiveness of it is in the results. Humbly speaking, we earned the most medals and we made our mark by fighting fiercely but we showed great sportsmanship as well."

Below is the photo of Maestro Ramon and his team.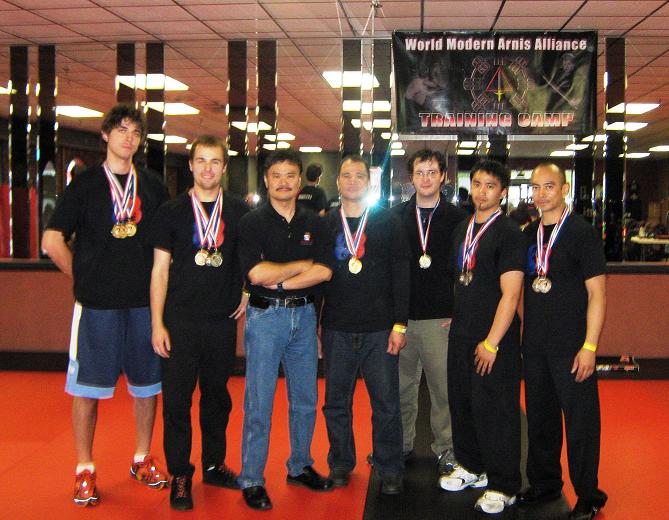 PROMOS
2012 Promo: Free One Month training and a set of uniform
Learning self-defense does not have to be expensive. Our training fees and product prices are very competitive. For a very reasonable fee you will learn multiple arts: Tagaan Arnis, Kawala, Kuntaw, Sikaran, and Buno. That's five major FMA styles, and other styles that GM Marc has been trained through the course of his martial arts life.
Inquire about our family discounts and the graduated discounts attached to the different modes of payment. Most importantly, we issue a receipt for all your payments.
In Canada, physical fitness programs such as martial arts training are eligible for a tax credit per child enrolled. For complete details, please go to http://www.cra-arc.gc.ca/whatsnew/fitness-e.html


ARNIS, etc. For Sale!!!
Imported direct from the Philippines! We have an inventory for ARNIS and Philippine flag for uniform patch. For merchandise inquiry and order, please call 416-894-6443 or email us

Retail Price:
Arnis sticks (pair, good grade) with a shoulder-strapped holster = C$35.00 (includes 8% PST)

Philippine Flag (uniform patch) = C$5.00 (includes 13% HST)

Wholesale/Instructor?s Price:
Please call 416-894-6443 or email us for a special price.

Mode of delivery is PICK-UP only.
Back to top
Copyright © 2010 Tagaan-Kawala M.A.
Website design by: GM Marc